South Carolina Boat Show - Greenville
Show Location:
TD Convention Center, Greenville, South Carolina
Show Dates:
Thursday, January 28, 2021 through
Sunday, January 31, 2021
Show Times:
Thursday & Friday: 12pm – 9pm
Saturday: 10am – 9pm
Sunday: 12pm – 6pm
Show dates and hours are subject to change.
Admissions:
Adults: $7
Seniors (65+): $6
Students (6-18): $6
Children (5 and under): FREE
Parking: $5
Prices are subject to change.
Upstate South Carolina Boat Show held in Greenville, SC, being one of the largest area events, showcases a huge selection of the latest boat models. Offerings will include power boats, fishing boats, pontoon boats, cruisers, ski boats, personal watercraft and more.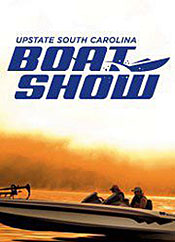 Additionally, the show will also have on display an extensive array of boating accessories, boat docks, fish camps and fishing equipment. There will also be marine insurance and boat finance professionals at the show with everything you need to get your boating season off to a great start. With the discounts that will be available, this year's show will be another "get ready" season starter event for boaters and boat dealers alike.
The show will allow you to peruse the latest types and models offered by boat manufacturers including:

Fishing, Pontoon, Speed, Ski, Cruisers, and Personal Watercraft. Additionally, you'll find boating and fishing accessories and everything that you need to start your season off right!
The show will belocated at the TD Convention Center which was formerly known as the Carolina First Center in Greenville, SC.
Information about this was obtained from various sources and is thought to be correct. We strongly recommend that you contact the show producer to confirm this information. See the bottom of this page for informaiton on how to contact the show producers.