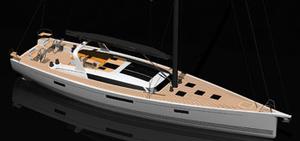 X-Yachts Information
X-Yachts production yard was established in Denmark in 1979. Today they stand as one of the most successful and quality-driven production yards in the world. X-Yachts grabbed the attention of the cruising market during the 80's when they were designing and building winning IOR yachts for World Class Racing. Back then, the cruisers were hungry for fast, high quality, comfortable sailing yachts. It became very clear that X-Yachts could direct their expertise toward the cruising market and combine their fast racer design talents with high performance cruising yachts.

The result was a range of Performance Cruisers that gained a strong foothold in the early 90's and continued to prosper into the new millennium. By 2001 X-Yachts had entered the deep water cruising market with their introduction of the first X-Yacht 73. From 2003 through 2005 X-Yachts turned it's attention toward a new generation of performance cruisers which included the X-43, 40, 37 and 50. In 2005 the IMX 70 racer/cruiser was launched as a state-of-the-art yacht with an impressive modern, yet classic design.

X-Yachts designs and builds sailboats that will meet the needs of almost anyone that wishes to own one. They have a range of one-design classes, the Xcruising Range for the sailor who wishes to cover many offshore miles in style and comfort and the Xperformance Range which is an evolution of the original performance models from the early 2000's.

X-Yachts has earned a reputation for designing and building yachts that offer not only a sailing experience second to none, but the ability to entertain the entire family as well.
Click here for X-Yachts for Sale
X-Yachts Corporate Contact Information
X-Yachts
Fjordagervej 21
DK-6100 Haderslev , DENMARK
+45 74 52 10 22
Fax: +45 74 53 03 97
Email X-Yachts for information