Custom Waterline Power Yachts Searches
Waterline Power Yachts Information
Waterline Yachts was founded by a man named Ed Rutherford back in 1982. The company was founded on and still maintains an unwaivering dedication to the design and construction of the finest steel motor yachts in the world. Waterline's philosophy of constant improvements and the evolution of design and building techniques has not changed since it's inception. This philosphy is the foundation on which each and every Waterline vessel is built.

Building a Waterline Yacht is a joint effort of the owner's ideas, the designer's expert creativity, and finally, the builder's flawless execution of the results. The process begins by going over each and every feature that will ultimately make the boat just as unique and individual as it's owner. Drawings are then produced to portray the personalized designs and the specifications for the desired components are fine-tuned as well. The entire construction process is dynamic and open from beginning to end. By combining the exploration of new ideas with the time-tested ideas, the next evolution of Waterline is created.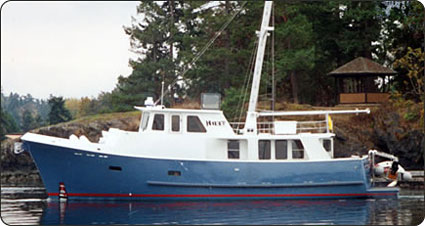 It has been proven over the years that this open approach to designing and building yachts allows clients to feel a greater satisfaction with their investment. With a gracious variety of sizes and virtually unlimited design options, a Waterline Yacht is the perfect choice for the discerning yacht owner.

Waterline Yacht Resources:
Click here for Waterline Power Yachts for Sale