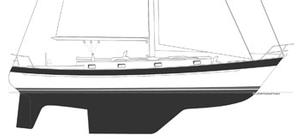 Custom Valiant Yachts Searches
Valiant Yachts Information
The story of Valiant Yachts began back in 1973 with a young designer named Robert Perry. Perry was offered an opportunity to design what would be considered a new and unique class of cruising sailboats. A boat that retained traditional styling that could be sailed easily by a couple yet still be capable of superior offshore performance that was more typical of racing sailboats.

Perry accepted the challenge which put his tremendous talents to the test. The result was a sailboat that ushered in the era of the Performance Cruising Yacht, the Valiant 40. The Valiant 40 was a major contributor in earning Valiant Yachts the recognition of designing world class yachts. They have won major awards time and time again, including the induction of the original Valiant 40 into the American Sailboat Hall of Fame. Their quality and traditional styling have become an industry standard by which all other sailing yachts are measured today.

The most recent additions to the Valiant line include the Valiant 42 and the Valiant 50. These new models are the evolutionaly successors to the original Valiant line and incorporate over three decades of research, development, technological advancements and refinement. They are, like all other Valiant models, designed and built for offshore liveaboard cruising.


Every Valiant yacht that has ever left the production facility has been built to order on a semi-custom basis. The new line is even more customizable as the design team has added a new deck system that eliminates pre-set locations for hatches, port lights and companionways. This allows clients a seemingly unlimited choice of interior and exterior arrangements.

The new Valiant yachts carry on the tradition of strength, performance, comfort and safety that have been the standard of this highly reputable builder from the very beginning. Valiant yachts are still attainable in today's used sailboat market, however in January of 2011, the company made the grueling decision to cease production and close it's doors.

Other Valiant Yacht Resources:
Click here for Valiant Yachts for Sale
Valiant Yachts Corporate Contact Information
Valiant Yachts
500 Harbour View Rd.
Gordonville , TX 76245
(903) 523-4899
Fax: (903) 523-4077
Email Valiant Yachts for information