Uniflite Information
Uniflite has an impressive history that began in 1957 in Bellingham, Washington as a collective effort put forth by Art Nordtvedt and a carefully selected crew of nautical experts. In fact, according to Art, the name Uniflite was chosen to reflect this "united crew".
The first Uniflite boats produced included 15', 17', 18' and 20' models. All were built with fire-retardant resins which was a ground-breaking production process for pleasure boats at the time, and also a process exclusive to Uniflite.
By 1962, Uniflite was being publicly traded on the NYSE which made the company eligible for Navy contract work. In 1965 they were awarded a contract to build 120 River Patrol Boats for the Navy to be powered by twin Detroit diesels with water jets. Ultimately over 750 of these boats were produced in addition to 14' and 50' patrol crafts, landing crafts and personnel boats built to satisfy other military contract obligations. Throughout the years Uniflite built commercial fishing boats and sailboats as well as the pleasure boats they are known for today.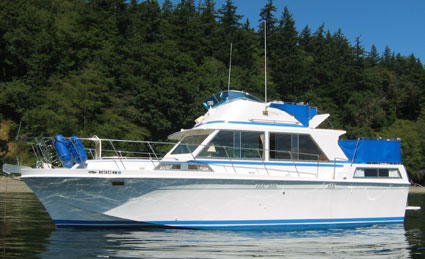 A second Uniflite plant was opened in North Carolina in 1977 after boat molds were acquired from Pacemaker Boat Company. Three years later, the plant in Bellingham was almost completely destroyed by fire. The availability of the molds in the North Carolina plant allowed them to continue production.
Uniflite was eventually purchased by Chris Craft in 1984. Many of the original Uniflite designs continued to be produced under the Chris Craft brand name until production ceased in 1989.


Click here for Uniflite for Sale
Uniflite Corporate Contact Information
Uniflite
Bellingham , WA