Trawlers Information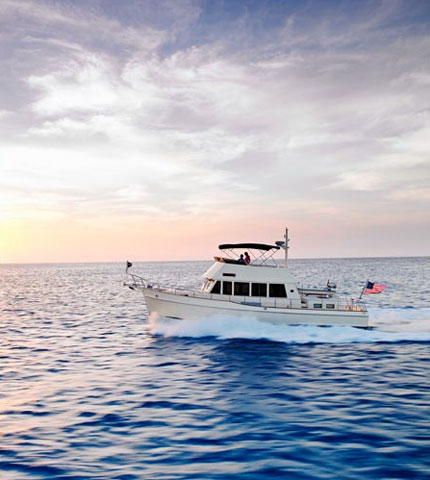 Some trawler builders to consider:
Grand Banks Trawlers
Mainship Trawlers
Ocean Alexander Trawlers
Island Gypsy Yacht
Trawler style boats are used by boating enthusiasts typically resemble commercial fishing boats and commercial trawlers. Additionally, this style of vessel is sometimes referred to as a trawler yachts or cruising trawler. Most recreational trawlers are constructed using a displacement or semi-displacement type hull althogh the rise in the cost of fuel and the decreased fuel consumption offered by true displacement hulls has increased the popularity of the full displacement hull among many buyers. Displacement hull in this type of vessel typically offers a cruising speed of 7-9 knots depending on the surface area and length of the boat. This style hull usually allows a maximum speed iin the 10-12 knot range. Semi-displacement hull trawlers can typically attain 14-20 knots with a substantial reduction in fuel economy. Many production recreational style trawlers have a raised pilothouse or an offset deckhouse. Historically, trawlers are mostly offered in lengths from 35 feet to 60 feet. Trawlers are most often built with long term cruising and worldwide destinations in mind. Combined with large fuel tank capacity trawlers can cruise great distances before needing to be refueled. They can usually, comfortably, house from 2 to 8 individuals for extended periods of time and can even be used as a permanent residence.
Although trawlers are usually equiped with single engines, trawlers with twin engines are available from several builders. Travel range is normally 1,500 miles to 3,000 miles on the smaller vessels and even further for those over 45ft. When combined with the slower speeds of the displacement hull, these features give trawlers far greater range and economy than similarly sized conventional hulled boats. A large engine room under the main cabin is another feature of true cruising trawlers. Trawlers typically provide all the amenities and comforts of home including generators in the 5kW to 20kW range to power conventional domestic appliances, bow thrusters, dinghy cranes, and other similar types of equipment.
Click here for Trawlers for Sale