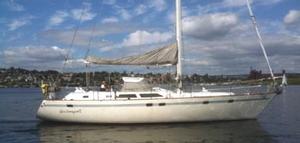 Custom Taswell Yachts Searches
Taswell Yachts Information
Taswell sailing yachts are built by Ta Shing. The first Taswell yacht was launched in 1986 and since then well over 100 have been built in a wide range of sizes from 43 to 72 feet. These beautiful cruising sailboats are widely known for their suberb craftmanship and extraordinary circumnavigation abilities.

The first vessel in Taswell's line of modern, technically advanced performance cruiser series was introduced in 1988. While advancing themselves into the world of state-of-the-art design and technology, the new series still maintained the refined luxury, elegance and dependability that made them world famous.


Keeping pace with their new development program, the Taswell Dynasty 72, has recently been completed and stands as the very latest, new project to emerge from the Taswell line. The Dynasty 72 was a joint venture, with naval architect Bill Dixon and the world famous Andrew Winch Designs team who provided the elegant styling and luxurious interior. The Dynasty represents the creation of a world-class, second generation, semi-custom super yacht. It is a unique sailing yacht in every aspect and encapsulates Taswell's legacy of superior performance, ruggedness and astounding beauty.

Other Taswell Yacht Resources:
Click here for Taswell Yachts for Sale