Custom Supra Boats Searches
Supra Boats Information
Supra Boat is the first performance boat builder to realize that a superior tow boat had to have both a great living room and a great playing field. Supra's evolving design hinges on two important concepts. Any new design ideas have to enhance both the ride-ability and live-ability of their boats.

Supra lives for the wake and they build boats for riders that strive to challenge their personal best with every run. The Supra name has become synonymous with superior performance, reliability and pure enjoyment on the water.

Supra's Deep Drop V Keel hull design allows for better straight line tracking and passenger comfort. They were the first to offer an open bow design for more seating on a ski-boat and also the first to incoporate a hydraulic wake plate to adjust the characteristics of the wake according to the water conditions and the requirements for a variety of sports.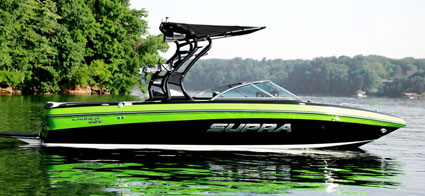 Supra vows to keep 'value' a part of the Supra ownership experience and by the same token will not pass on the increasing costs of materials to their customers or fall victim to building boats on trendy design whims. Supra always has and always will be a company of riders building boats for riders.

Click here for Supra Boats for Sale