Sabre Yachts Sailboats Dealers
Custom Sabre Yachts Sailboats Searches
Sabre Yachts Sailboats Information
Sabre Sailboats: Sabre Yachts Corporation has been designing and building Sabre Sailboats for over 30 years. Sabre currently builds four sailboat models from 36 to 45 feet in length, the Sabre Spirit, 386, 426 and 456.

Sabre sailboats are medium displacement, performance cruising yachts. They represent a perfect blend of cruising comfort, ability for bluewater passages and race winning performance.

Sabre's first sailboat design, the Sabre 28, was developed through an extensive tank testing program at Stevens Institute. Today, state of the art Computer Aided Design techniques and the newest performance prediction programs have allowed Sabre to take the latest designs directly from the drawing board to the tooling shop. Sabre's design developments have remained true to their original design philosophy of performance and traditional styling balanced with a focus on safety and comfort. Jim Taylor, Sabre's designer works primarily in hull design, underwater appendage and basic rig plans. His work is complemented by the Sabre Design Team which in-turn develops the full details of the deck and interior layout.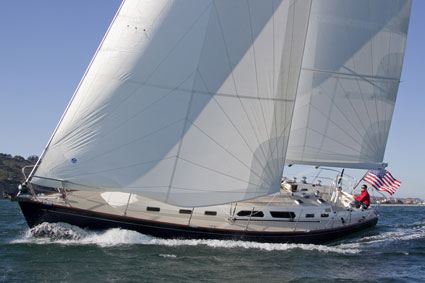 Sabre sailing yachts are designed for carrying a high load capacity. Their dependable stability is achieved by a combination of hull form and high ballast-to-displacement ratios. Their very efficient keel shapes allow for optimum lift and provide superior performance as well as close upwind pointing angles.

The sail plans are designed to offer the ultimate balance of light air performance and heavy weather stability. Sail areas are chosen to allow a full mainsail and 150% genoa to be easily carried in up to 14 knots of wind. This "rule of thumb" will vary slightly with differing sail cuts and rig tensions of individual boats.

Sabre sailboats are designed to be comfortable, fast and highly refined yachts which inspire a pride of ownership and are a ultimately a true pleasure to sail.

Click here for Sabre Yachts Sailboats for Sale