Custom Riva Boats Searches
Riva Boats Information
The Riva Boats legacy began back in 1842 after a sudden storm ripped through a fishing village on Lake d'Iseo leaving boats badly damaged and fisherman with no means of survival. A young carpenter who had just arrived in the area earned himself great admiration among the people as he went about repairing the damaged boats. Many viewed it as a miracle, Pietro Riva simply viewed it as doing what he loved to do.

Pietro went on to open his shipyard in that town and build the first Riva creations there. No one had ever seen the likes of a Riva yacht and Pietro's artisan masterpieces quickly became well-known and highly esteemed. Riva yachts were the first to be fitted with internal combustion engines in order to efficiently transport people and goods over the lake.

After the war, Serafino Riva went to work transforming the shipyard's products into a true brand as he aimed production towards motorboating. Success also came during the 20's and 30's as a number of records were broken and various national and international titles were won with Riva speedboats.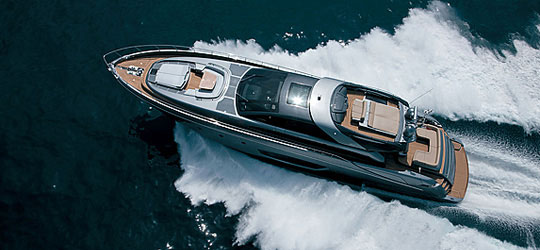 Riva swept into the pleasure craft industry in the 50's and further developed the brand to become synonymous with elegance, perfection and status. Their creations became objects of desire for kings and queens, sport champions and actors and actresses world wide.

Riva yachts stand for timeless luxury and the finest that life has to offer. From the earliest years, Riva yachts were a manifestation of passion and creation. Today, Riva is an iconic brand of the Ferretti Group. They design and build some of the finest yachts in the world including the limited edition Marc Newsan designed Aquariva and the Aquariva by Gucci, a collaborative design created by Gucci, Riva and Officina Italiana Design to mark Gucci's 90th anniversary in 2011.

Other Riva Yacht Resources:
Click here for Riva Boats for Sale
Riva Boats Corporate Contact Information
Riva Boats
Via Ansaldo, 5/7 Zona Industriale, Villa Selva
Forli , Italy 47122
(+39) 0543 - 787511
Fax: (+39) 0543 - 473069
Email Riva Boats for information