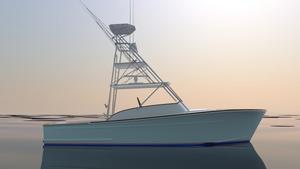 Custom Release Boats Searches
Release Boats Information
Release Boatworks, builder of Release Fishing Boats, believes that perfection in a sportfishing boat is a combination of stunning craftsmanship, speed, stability in nasty seas and a family friendly layout followed by a massive cockpit.
The process of designing at Release Boatworks is initiated by a group of knowledgeable offshore tournament fishermen; among them some of the finest captains on the ocean and Erwin Gerards a celebrated naval architect.
Release Boats offer designs that are fishing-friendly. These designs incorporate things like low gunwales for the stress-free handling of billfish alongside the boat, a clean wake at trolling speeds, livewells and fishboxes placed in sensible locations. Perfect camber enhances the cockpit soles ability to drain water quickly to the scuppers. The extensive tackle center holds
enough terminal gear for long term charter fishing, think a week at a time! Additionally, in the cockpit, you have the expert placement of the fighting chair, icemaker, refrigeration, storage and engine access.
That being said, the best fishing boat designs are worthless unless the boat is simply stunning. At Release Boatworks everything must fit flawlessly and then be meticulously finished to a high gloss shine. The result of these efforts is the classic look that thoughtful fishermen and boating enthusiasts expect from a builder of custom boats.
Click here for Release Boats for Sale