Custom Regulator Boats Searches
Regulator Boats Information
Regulator Boats are born and bred in North Carolina where they have been endlessly tested in the challenging waters of the Outer Banks. Their line of sport fishing boats which range from 23 to 34 feet are designed to meet the discriminating needs of serious anglers. Regulator boats have been the recipients of multiple awards thanks to their no-compromise philosphy and never ending desire to please the customer.

Regulator Marine, the builders of Regulator boats operates out of a first-class, 48,000 square foot facility where they employ over 80 extremely skilled and highly trained builders and support staff. Each one of these individuals is dedicated to meeting or exceeding the goal of product excellence.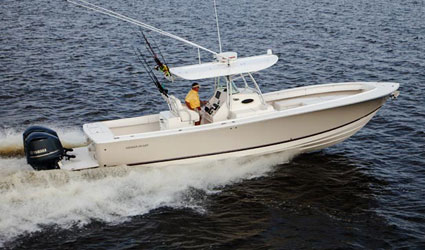 In an industry where production standards have become a race to the highest number, Regulator still builds hulls one at a time. They are unwilling to compromise the needs of the few to satisfy the demands of the many. regulators are designed by Lou Codega, a renowned naval architect, and built according to the strictest standards in the industry with impeccable attention to the smallest details. They are built to not only last a lifetime, but to perform and deliver the legendary ride they have become famous for.

Other Regulator Boat Resources:
Click here for Regulator Boats for Sale