Custom Oyster Yachts Searches
Oyster Yachts Information
Oyster Yachts: Back in 2004, a sailor who completed a circumnavigation aboard an Oyster 66 sailboat opened communication with the Oyster shipyard with regard to building a jet-driven power boat. Even though Oyster Marine hadn't built a power boat in well over a decade, they accepted the challenge and worked with Levi Design Group to develop the Oyster LD43.

The LD43 was like nothing else in it's class. Visually reminiscent of a lobster boat, she has a flat roofline, ample pilothosue windows and a good sized cockpit. The more traditional accents like the teak wood and curvy coach roof lead back to Oyster's sailing heritage. The windows on the side which are severely raked give the boat a more aggressive look.

The LD43 is nicely equipped inside with both cockpit and saloon dining areas with folding teak tables, leather settees and lots of teak. The stateroom is quite comfortable with plenty of stowage space, and the galley is fantastically equipped and also ripe with space for stowage.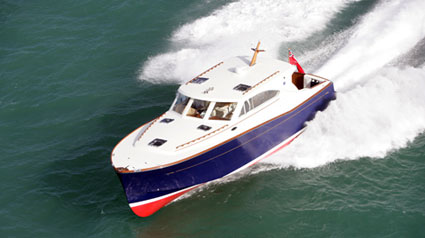 Oyster's intentions were not to merely make a copy of a lobster boat, a picnic boat or any other kind of boat for that matter. They set out to create something completely unique and they succeeded in doing just that.

Other Oyster Power Yacht Resources:



Click here for Oyster Yachts for Sale