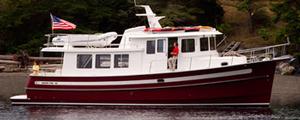 Custom Nordic Tugs Searches
Nordic Tugs Information
Nordic Tugs story dates back to the early 70's when Jerry Husted purchased Blue Water Boats, a company that manufactured double-ended ocean ketches. Jim Musser, the former owner of Blue Water Boats introduced Jerry to a naval architect by the name of Lynn Senour. Senour and Husted agreed that due to the oil shortages and high gas prices that plagued the early 70's, there was a sincere need for a fuel efficient power boat in the marine market. Although they whole-heartedly agreed with the idea, they had difficulties coming up with an original design that would meet the specifications.

Husted was ultimately struck with a revelation. A tug boat was the perfect design to meet all of the qualifications. Women would consider it "cute" and men would no doubt be able to view it as rugged. Tugs looked the part and were incredibly efficient at slow speeds. Senour agreed to go along with the project under the condition that he was free to design what he wanted beneath the waterline. He was after a semi-displacement design that could balance speed with efficiency. And so marked the beginning of Nordic Tugs, Inc.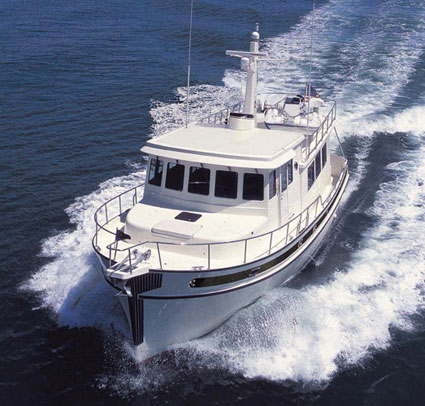 The first 26' prototype was built to pay homage to the tugs of the 30's. It was unveiled at the Seattle International Boat Show in 1980 and it stole the show. A total of 37 tugs were sold at the show which averaged out to an astounding 3 per hour and by the end of the month, 54 had been ordered. Nordic Tugs went on to build two versions of the original 26 footer, the Red Apple and the Cricket, both of which proved to be very popular.

Nordic Tugs expanded it's product line to include larger vessels and eventually retired the original 26' model in order to meet the new demands. The 26 retained an avid following even after retirement, and the decision was made in 2007 to re-launch it as a limited production model.

Today, Nordic Tugs are exported world wide and the company has added overseas dealers to help supply the demand. Nordic Tugs are a culmination of efficient performance and comfortable livability and have formed an entirely new category of cruisers. Their classic design has stood up to the test of time and will surely continue to do so. After all, excellence never goes out of style.

Other Nordic Tug Resources:
Click here for Nordic Tugs for Sale
Nordic Tugs Corporate Contact Information
Nordic Tugs Inc.
11367 Higgins Airport Way
Burlington , WA 98233
1-360-757-8847