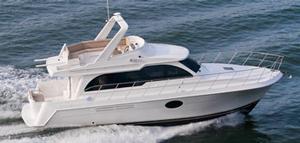 Custom Navigator Yachts Searches
Navigator Yachts Information
Navigator Yachts: Jule Marshall founded Marshall Boat Company in 1966 in Santa Ana, California which was finally incorporated into California Yachts in 1978. The company was known for it's 29 to 42 foot range of offshore cruisers. That line of boats became known worldwide as the Californian Line and were widely admired for being a high quality, trend setting line of yachts.

California Yachts was sold to the Carver Corporation in 1987. Shortly after the purchase, Carver shut down the plant and moved out of state. A year later, in 1988, Jule Marshall and his two sons Steve and Gil, formed Navigator Yachts, a Perris, California based builder of pilothouse motoryachts that range in size from 42 to 63 feet. At any given time, Navigator, which is still a family affair, has an average of nine boats in production. Jule brings more than 40 years boat building experience to the company, while son Steve serves as chief engineer and son Gil as secretary/treasurer. The Marshall family has maintained their commitment to building high quality, high performance, luxury yachts. Years of hard work, dedication and loyalty to producing the finest hand-crafted yachts is clearly evident in every Navigator Yacht.


The Navigator boat line has always been and continues to be a value-minded classic design. Since 1988, the Marshalls have built over one thousand top quality, semi-custom pilothouse yachts. Their focus for creating a unique and superior yacht remains unchanged.


Other Navigator Yacht Resources:
Click here for Navigator Yachts for Sale