Nautitech Information
Nautitech has been one of the largest builders of sailing catamarans in France in 1994. In September of 2002, the company was bought out by current chairman and managing director Bruno Voisard, a lifelong sailor himself who came from a family of sailors.

The first two years under Bruno's direction saw the launch of the Nautitech 40 and the Nautitech 47, both with great success. In the spring of 2005, a brand new 6,000 sq. meter facility was opened in La Rochelle and at the same time Ouest Croissance acquired holdings in the company to help strengthen it's controlled expansion.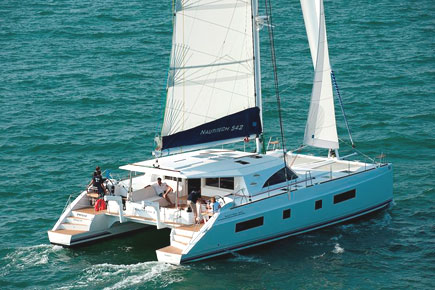 Following the opening of the new facility and the financial strengthening of the company, Nautitech launched several new designs. By the end of 2005, the 60th catamaran of the new range had been delivered in China and by 2007 Nautitech catamarans had been delivered and were present on all seas worldwide.

Nautitech catamarans moved it's operation to Rochefort in 2008 and a year later bought out the CIM Shipyard. Since then several new models have been launched including the Nautitech 441 and 442, the 542 and the new N 482. They have also introduced their rainwater recovery system with great success.

Other Nautitech Resources:
Click here for Nautitech for Sale
Nautitech Corporate Contact Information
Nautitech Catamarans
ZI du Canal des Soeurs
Rochefort , France 17300
+33(0)5 46 99 82 92
Fax: +33(0)5 45 99 78 0