Custom Morgan Sailboats Searches
Morgan Sailboats Information
Morgan Yacht founder Charles E. Morgan had an interest in sailing nearly all of his life. After being employed by a sail maker for some time, he struck out on his own and founded Morgan Racing Sails. It was during that time that he met yacht designer George Luzier. Charles soon found out that he shared a great interest with Luzier in designing boats.

Eventually, Morgan's boat building talents were noticed by a man named Jack Powell who, in 1960, commissioned him to build the 40 foot yawl, Paper Tiger. Powell and Paper Tiger went on to win the Southern Ocean Racing Conference not just once, but two years consecutively in 1961 and 1962. The success of Paper Tiger prompted a design for a smaller version, the Tiger Cub, which Morgan was unable to find a manufacturer for. He decided to take on the project himself and in 1962 the Morgan Yacht Corporation was born.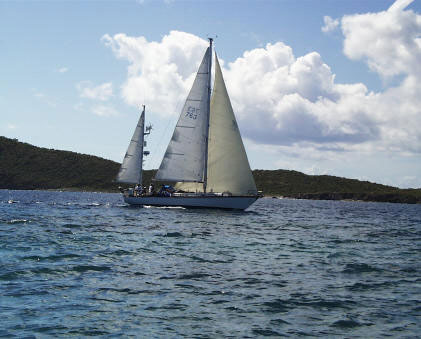 The first Morgan yacht was delivered in 1965. The earliest models included the Tiger Cub - the one that started the legacy - and the Morgan 34. In 1968 Charles sold ownership of Morgan Yachts to Beatrice Foods in order to fund the building of Heritage, a 12m wooden yacht with which Morgan would compete for selection as defender of the America's Cup.

While operating Morgan Yacht, customer feedback led to the design of what later came to be considered the most popular boat over 40 feet ever built, the Morgan Out Island 41. The Out Island was first introduced to the market in 1971 and soon became extremely popular with charter companies world wide. It fast became a standard in the charter boat industry.

Morgan parted ways with Morgan Yachts in 1972 and went on to found Heritage Yacht Corporation where he designed and built trawlers and sailing yachts. Beatrice Foods eventually sold ownership of Morgan Yachts to Catalina Yachts in 1984 who redesigned the Morgan Out Island 41 and sold it from 1986 to 1993. Morgan's Heritage Yacht Corporation was sadly forced into bankruptcy and ownership of that company was transferred to Catalina Yachts as well.

Other Morgan Sailboat Resources:
Click here for Morgan Sailboats for Sale