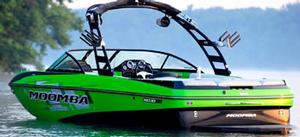 Custom Moomba Boats Searches
Moomba Boats Information
Moomba Boats were born from the need for an economical tournament towboat that could meet the needs of the masses without sacrificing performance for the core enthusiast. Moomba's are built with the philosophy of keeping it simple. They offer precise straight-line performance out of powerful hole shots with nimble handling and leave behind tournament quality wakes. They are built and priced to be true performance boats - without overly technical gadgets and trendy graphics.

The first Moomba mold was purchased form an Australian towboat company in 1989, and in 1990 the aptly named Moomba Boomerang was introduced to the market. Initially, Moomba boats were manufactured alongside Supra boats by a company called Supra Sports. Supra Sports was purchased by Inboard Marine in 1992, and continued to manufacture the popular performance towboats through 1995. In 1995 the management of the company was taken over by United Marine who assembled a group of former Master Craft execs. to manage production. By 1997, the success of the company led to the design and production of the Moomba Outback. The Outback set new standards for value-priced performance towboats, and to this day remains one of the precious few three-event towboats that are AWSA and NMMA certified.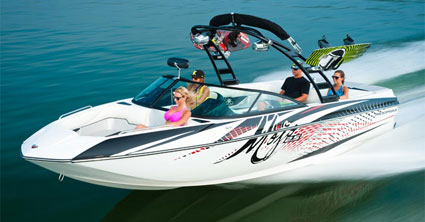 In 1999, the groups that was assembled by United Marine bought out the company and moved forward under the name of Skier's Choice, Inc. Moombas are still manufactured by Skier's Choice today along with another line of award winning tournament boats, Supra boats. Skier's Choice has grown to become the third largest manufacturer of tournament tow boats in the world.

Other Moomba Boat Resources:
Click here for Moomba Boats for Sale
Moomba Boats Corporate Contact Information
Skiers Choice
1717 Henry G. Lane Street
Maryville , TN 37801
800-320-2779
Fax: 865-983-9950
Email Moomba Boats for information