Custom Monterey Boats Searches
Monterey Boats Information
Monterey Boats has established itself as a frontrunner in designing, developing, engineering, and building superior boats over the past 20 years. They feel that much of their success can be attributed to the fact that they are an independently owned and family operated company. Being an independently owned company allows Monterey to react quickly to market conditions and follow up by making decisions and implementing them efficiently. The purchase of a Monterey makes you a new family member, not just a new customer. This point of view, along with passion, tenacity and determination is the foundation of Monterey Boats and has helped them to become the fastest growing name in the boating world.

Monterey successfully combines all of the ingredients that are necessary in order to be a benchmark in today's competitive environment. New standards in safety, performance, styling, ergonomics and luxury are incorporated into each and every Monterey that is built at their 220,000 sq. ft. facility in Florida. Monterey will not rest on their laurels. They are constantly looking for new ways to enhance and refine not only their boats, but their company as well. They have a rich entrepreneurial spirit that leads them to think beyond typical boundaries and move ahead with confidence and integrity.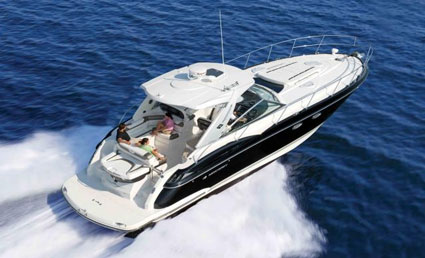 Monterey continues to design award-winning boats that set the standard for what a performance luxury craft should be. They bravely integrate fresh, new designs into their products creating distinctive and appealing models with an air of international flair about them. Monterey boats symbolize high-performance luxury on the water and are designed to be an extension of their owners' lifestyle.
Update August 2012: The Monterey Boats world headquarters continues to be located in beautiful north Central Florida, about 90 minutes north of Orlando in Williston, Florida. They have expanded their two main manufacturing plants which now total 500,000 square feet of manufacturing space situated on 80 acres of land adjacent to the Williston Airport. With more than 500 full time boat builders, Monterey is the largest private employer in Levy County.
Other Monterey Boat Resources:
Click here for Monterey Boats for Sale