Monk Information
Monk Yachts and Monk Trawlers are the seaworthy, comfortable and beautiful boats designed by naval architect Ed Monk. Thousands of Ed Monk designed boats have been built since the 1920's, and many of them are still being treasured for cruising, working and living aboard to this day.

Ed lived and worked on a 50 ft. pilothouse boat for many years of his life. It was this experience that led him to design his boats with a greater consideration for the needs of live aboards. He designed them with lower windows that were easier to comfortable see out of, lots of ventilation, galleys with bigger sinks and ice boxes, and dining nooks that were built in.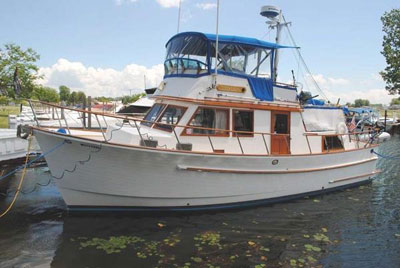 Ed Monk designed mostly fish-boats, runabouts, tugs and power yachts that were used on the Pacific coast and built to withstand the rough waters between California and Alaska. His designs were often built by well-known builders such as McQueen, Philbrook, Grandy, Wakefield and Tollefson. Although most of his designs were powerboats, he also enjoyed drawing sailboat designs, particularly deep draft keel sailboats.

Monk's designs were quite widely recognized after the publication of his first book which was titled "How to Build Wooden Boats". The longevity of his boats are attributed to the materials that he used. Monk designed boats that were built with red cedar planking over bent-oak frames. The wood that was used came from mature trees and was painted with red lead during the building process.

Ed Monk was a modest and talented man who was also known for his generosity. He was much loved and esteemed by his clients, family and friends, and is still to this day appreciated by the owners of his sturdy and handsome boats. His legacy is carried on by his son, Ed Monk, Jr. who is also a naval architect and has worked for many years designing both pleasure and commercial crafts up to 100 feet in length.

Other Monk Yacht Resources: