Melges Information
Melges Sailboats are built in Zenda, Wisconsin USA. The company produces racing sailboats that range from 16 feet all the way up to 38 feet. Performance and quality are built into every Melges Sailboat, they are the ultimate in ultra high performance, one-design racing.

For over 60 years, Melges Performance Sailboats has delivered extraordinary Scows and Sportboats world wide. Melges Boat Works was originally founded by Harry C. Melges, Sr. back in 1945. He almost instantly became a leader in Scow boat design and production in the U.S., most notably in the Midwest. The first boats produced were flat-bottomed wooden row boats, which provided a solid foundation to keep his vision and the company alive. It didn't take him long to launch himself into race boat production. He made sure to deliver the best hulls, sails, spars and accessories to ensure that his customers stayed on the cutting edge of competition.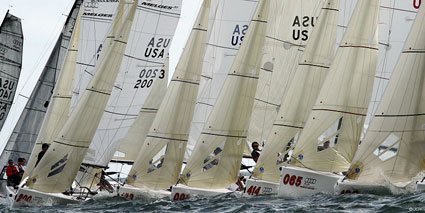 Melges is one of the most trusted, recognized and respected names in the sailing industry. The devotion, generosity and passion that surround the Melges name are undeniable, making sure it will forever be a legendary symbol of quality and excellence that is second-to-none.

The Melges factory is still family owned, operated and in the very same location today. Innovation is still the main focus of the operation. Every boat is manufactured utilizing a forward thinking approach that supports each design. Ultimately this approach makes the boats easy to rig, sail and trailer with a fun factor that is flat-out addictive.

Other Melges Sailboat Resources:
Click here for Melges for Sale