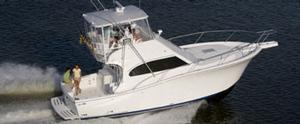 Custom Luhrs Boats Searches
Luhrs Boats Information
Luhrs Boats history can be traced back to the 1830's when a a man by the name of Henry Luhrs immigrated to the United States from Germany. Henry almost immediately became involved in the marine trade upon his arrival, supplying ships in New York City. Luhrs eventually owned his own chandlery, selling supplies and equipment for boats and ships and he even bought a ship of his own, The Sophia R. Luhrs. His grandson, another Henry, shared the same love of the sea and continued the family heritage by building and repairing boats on the New Jersey coast.

About 100 years after Henry Luhrs started his business, his grandson, also a Henry who had a love for the sea, opened a small shipyard in Morgan, New Jersey. There, he continued his family heritage by building and repairing boats. Soon Henry's shipyard grew into a thriving business which he named the Henry Luhrs Sea Skiff Company. As the company grew, Henry's sons became involved and before they knew it business had boomed into production of over 1200 boats a year.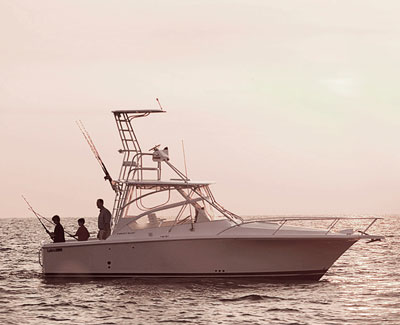 In 1965, Bangor Punta, a large timber company, Bangor Punta, offered to buy Henry's business for an amount that he couldn't refuse and Henry Luhrs Sea Skiff Company was sold.
Soon after the sale, sons John and Warren ventured out on their own and purchased Silverton Sea Skiffs, a fledgling builder in Tom's River, New Jersey. Following in their father's footsteps, the brothers were very successful and were soon ready to expand. Warren, who was also an avid sailor, knew they could design boats for the sailing market as well. That realization led to the founding of Hunter Marine in 1973 and was soon followed by Mainship in 1978.

The family finally reclaimed the Luhrs name in 1985 and began production under it in 1986. A new production facility was opened in St. Augustine, Florida in 1987 to accommodate the brand's growth and the demand for Luhrs boats. The St. Augustine facility has since been expanded several times and a new facility in Midway, GA was added in 1999 to help meet demand. The Luhrs Corporation, now employee owned, continues to serve the needs of sportfisherman by building some of the best mid-size fishing boats in the world.
April 30, 2012: Morgan Industries Corp., the new parent company of the Luhrs Marine Group, filed voluntary petitions to reorganize under Chapter 11 in bankruptcy court in New Jersey. Morgan Industries Corp. was created as an umbrella group so that all nine companies, Silverton Marine Corp., Mainship Corp., Luhrs Corp., Hunter Marine Corp. and five additional subsidiaries, could be bundled into one complex case action and proceedings could move along at a much quicker pace. The move made it possible for Morgan to hire one attorney for all of the filing companies instead of nine separate ones, which would have eaten up money, says Peterson, who was named Morgan's chief restructuring officer and treasurer.

Other Luhrs Boats Resources:
Click here for Luhrs Boats for Sale
Luhrs Boats Corporate Contact Information
Luhrs Sportfish
301 Riverside Dr
Millville , NJ 08332
(212) 446 7000
Fax: 904-827-2156
Email Luhrs Boats for information