Custom Lagoon Power Searches
Lagoon Power Information
Lagoon Catamaran was established in 1984 as a direct extension of Jeanneau's racing division. Currently, Lagoon Catamaran is a part of the Custom Yacht division within the Beneteau Group. Since the launch of the Lagoon 55 back in 1987, Lagoon Catamaran has expanded its offerings and put great emphasis on improving quality, esthetics, and performance.

Their success led Lagoon to continue their ideas with the introduction of Lagoon Power 43, a power catamaran designed by Xavier Fay and Philippe Subrero. The culmination of more than 4 years of study, the Lagoon Power 43 combines leading-edge technology with practical simplicity to provide easy and comfortable cruising. Lagoon has also proven itself in the world of custom monohulls and racing multihulls. Their overall win list remains unequaled by any other boat builder to this day.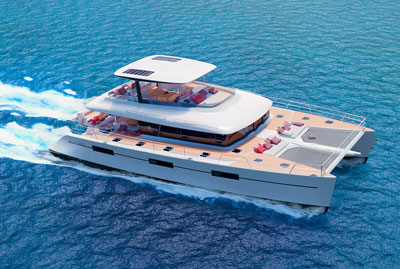 In 2005, Lagoon launched it's successor to the Lagoon Power 43, the Lagoon Power 44. The new model was introduced as an evolution of the 43 with a new and more accommodating flybridge, more seating, an updated helm station and an optional full enclosure for the cockpit among many other things.

After the Beneteau Group was acquired by Jeanneau in 1995, Lagoon, which was previously located in Nantes, joined forces with CNB (Construction Navale Bordeaux). Lagoon has unequaled technical know-how and mastery of composite construction at their disposal, assets to which the many individual owners, racers, and charter customers can bear witness.

As of today, although successful in it's own right, the Lagoon Power catamaran has been phased out of production. Lagoon will move forward by concentrating their efforts on their expansive range of sailing catamarans.

Other Lagoon Power Cat Resources:
Click here for Lagoon Power for Sale
Lagoon Power Corporate Contact Information
Lagoon Catamarans
162, quai de Brazza
33100 Bordeaux , France
33 (0) 557 80 92 80
Fax: 33 (0) 557 80 92 81