Custom Hobie Cat Searches
Hobie Cat Information
Hobie Cats revolutionized the sailing world with their sailing catamarans. Hobie wanted to design a boat that easily be launched into the surf from the beach, sailed, and brought back through the surf. It was this 14-foot, single-handed fiberglass catamaran that changed the course of sailing forever. In 1969 Hobie unveiled the Hobie 16 which turned out to be the most popular catamaran ever as well as the most competitive catamaran class in the world.

Hobie Cat ownership means more than owning a sailboat. Over 100,000 Hobie Cats are sailing around the world today in huge Hobie fleets and regattas. Through the many social and racing activities of Hobie fleets, owner members have the chance to participate in activities that are designed to enhance the quality of their recreational time, and to contribute to a spirit of comradery that has graced the sport of Hobie Cat sailing since 1967. Sailors everywhere have come to call this unique bond "The Hobie Way of Life".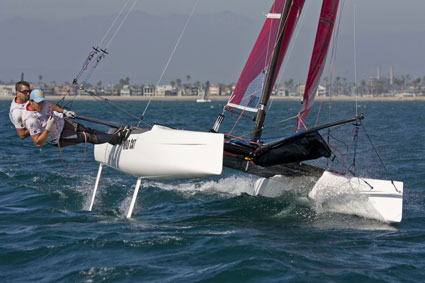 Other Hobie Cat Resources:



Click here for Hobie Cat for Sale
Hobie Cat Corporate Contact Information
Hobie Cat
4925 Oceanside Blvd.
Oceanside , CA 92056
1-800-HOBIE-49