Custom Hatteras Yachts Searches
Hatteras Yachts Information
Hatteras Yachts, a Brunswick company, is recognized as a world leader in the design, engineering and construction of luxury fiberglass yachts. Their New Bern, North Carolina facility is situated on the Neuse River, approximately thirty miles from the Atlantic Ocean. This modern yacht construction facility is comprised of 96 acres and 580,000 square feet of manufacturing space.
Hatteras Yachts has pioneered the construction of large fiberglass inboard boats with the introduction of their first model in 1959. Hatteras currently builds more than 15 models of sportfishing convertibles and cruising motor yachts from 50 to 100 feet, including the Hatteras Custom Yacht Series beginning at 82 feet.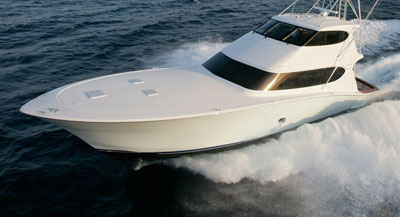 In the late 1980's the company began building their custom series of yachts. Their hull is a modified vee design, which delivers sharp entry plus a stable ride. Additionally, their construction uses deck and bulkheads that are vacuum bagged utilizing divinycell core with an excellent glass to resin ratio which reduces weight, adds strength and provides both thermal and acoustical advantages over conventional plywood. Click on the "Hatteras Yachts and Boats For Sale" link at the top of this page to view an extensive list of exceptional boats for sale with large quality phots and detailed vessel information.
Hatteras Yachts resources for owners and soon to be owners:
Click here for Hatteras Yachts for Sale
Hatteras Yachts Corporate Contact Information
Hatteras Yachts
110 North Glenburnie Road
New Bern , NC 28560
(252) 633-3101
Fax: (252)634-4813
Email Hatteras Yachts for information