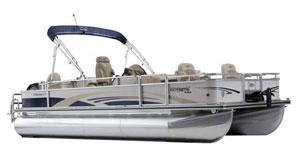 Custom Harris Pontoon Boats Searches
Harris Pontoon Boats Information
Pete and Ernie Harris, brothers, originally established their manufacturing business, Harris Manufacturing, in the 1940's. In 1957, Harris FloteBote was born and has fostered excellence in its products ever since. It is not by chance that Harris has established a lead position in pontoon boat industry. Before purchasing a pontoon boat you owe it to yourself to visit a Harris Flotebote dealer and peruse the qualities a Harris has to offer.
Since the company's inception, Harris has focused on attending to the needs of its customers both in service and product design an manufacture. There established mission it to make your time on the water and exceptional experience.
The consistence of their premium materials and abundant space guarantee you and your guests will ride the waters in complete comfort. The exquisite details of a Harris FloteBote are a site to behold!
Harris has every reason to brag about its extensive dealer network which not only maintains your purchase but also a sense of community. Service and support continue long after your purchase…
Click here for Harris Pontoon Boats for Sale
Harris Pontoon Boats Corporate Contact Information
Harris Boats - Brunswick Boat Group
1111 N. Hadley Rd.
Fort Wayne , IN 46804
(260) 432-4555