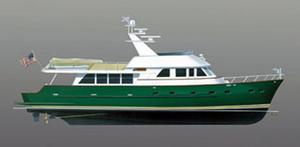 Custom Alaskan Yachts Searches
Alaskan Yachts Information
The Alaskan Yachts of today are a faster and more efficient version offering higher technology than the "Grand Alaskan" that was first introduced in 1997. These new Alaskan's are more traditionally styled yachts built in Taiwan factories in a range of lengths and styles from 53 feet to 80 feet in length with innovative designs up to 100 feet are intended.
Alaskan Yachts have been recognized around the world since the introduction of their first 49' wooden trawlers that were designed by Robert S. Doris. This iteration of the Alaskan Trawlers began appearing in the early 70's. These sturdy vessels were constructed in Hong Kong and gained an immense following amongst long range and offshore cruisers who were attracted to the refined looks and superior performance of this serious cruiser.
Alaskan Yachts now feature luxurious amenities usually found on much larger and considerably more expensive yachts, yet they are built to work and have been proven safe and reliable in some of the most undesirable of conditions on the water.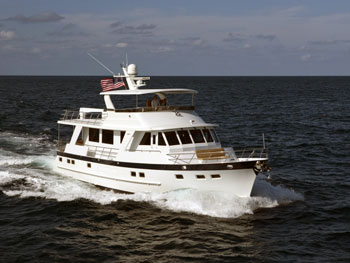 Alaskan Yachts are now considered semi-displacement motor yachts, and with employment of the new electronic diesel engines they offer both speed and range appreciated by the most serious cruiser.
The Alaskan Yacht design is one of the most successful offshore designs in the history of yachting. The company has a long and proven history of providing cruising pleasure and high quality crafts for their customers and shows no sign of slowing down through the new millennium.
Click here for Alaskan Yachts for Sale