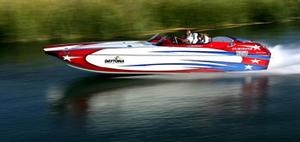 Custom Eliminator Boats Searches
Eliminator Boats Information
Eliminator Boats: In the late 1950's Bob Leach hitch-hiked his way from Michigan to Southern California with a mere $50 in his pocket. Once in the grips of the sunshine, he discovered that boating was a fantastic diversion from the daily routine. By the late 60's he had teamed up with brothers Bill and George Verkamp and built his own flatbottom SK boat. The boat was admired by almost all who laid eyes on it - and they wanted one too. Bob saw a business opportunity and in 1969 he found an empty gas station in Huntington Park and got to work.

The Eliminator was a revolution in the performance boat industry. It was built on an air-entrapment modified tunnel hull concept, a picklefork hull, that was aimed directly at the jet boat market. The new hull concept was introduced in 1974 with the 19 Daytona and it performed even better than expected. It became the first jet boat to break the 100 mph mark and once word got out, they couldn't build them fast enough.

Through the economic ups and downs of the following decade, Eliminator maintained focus. They continued to gain recognition for their cutting edge perfomance boats that were known for their incredible graphics, extraordinary quality and race-proven performance. As their business grew, they moved into larger facilities to accommodate the demand for their boats.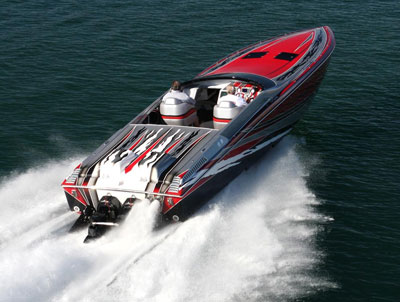 In the mid 90's Eliminator became the first in the industry to incorporate the use of integrated cockpit canopies and in 2005, unveiled the 36 Daytona Coupe which was the first closed cockpit, high performance pleasure boat with removable T-tops. A year later, Eliminator became the first boat manufacturer to officially represent the Daytona International Speedway and appear on-site at sanctioned events nation wide.

Today, Eliminator is the largest perfomance boat builder in the western United States. They have made a home out of a 100,000 square foot manufacturing facility and showroom in Perris, California where they keep over 100 dedicated employees very busy on a daily basis. A pretty impressive evolution that began with a hitch hiker with $50 in his wallet.
Currently, Eliminator remains the largest performance boat manufacturer in the western United States. The company's growth has recently encouraged another move, this time to Perris, California in Riverside County where Eliminator has established an entire industrial park, together with a 100,000 square foot state-of-the-art manufacturing and showroom facility with over 100 full-time employees. Additionally the complex includes a 400+ unit indoor boat/RV/trailer storage facility and numerous commercial buildings. The Eliminator line of boats is also represented by a network of dealers worldwide specializing in marine performance products.

Other Eliminator Boat Resources:
Click here for Eliminator Boats for Sale