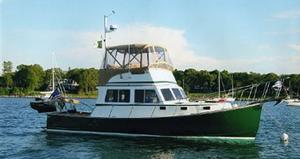 Custom Duffy Boats Searches
Duffy Boats Information
Duffy and Duffy merged with Flye Point Coproration to become Atlantic Boat Company in 1995. Collectively, the two companies have built over 1250 hulls since the 1970's. Today, Atlantic Boat Company carries on a long-standing tradition of quality Downeast boatbuilding with their line of commercial boats and yachts.

The Atlantic Boat Company builds boats that are renowned for their performance, safety, longevity and integrity. The hulls have been painstakingly developed over the past 150 years to handle the rigors of fishing off the coast of Maine. With large keels, flat aftersections, and a fine entry, Duffy hulls are rock steady in any weather and provide an exceptionally safe and comfortable ride.

The Atlantic Boat Company is committed to building the boat you want, and they will even guarantee the quality of their craftsmanship. Whther launched as a workboat or a finely finished custom yacht, their boats hold together like no other production boat can.

Their boats are available in three different "levels of finish" depending on your wants or needs; workboat, sportfishing boat, and cruiser. The finish levels give Atlantic Boat Company a place to start when determining the kind of boat you are looking for. Any aspect from these different levels can be combined to meet your exact specifications.

Each year they also build over 30 kit boats that range from 26 to 48 feet. A kit boat is defined by the company as any boat that is not capable of leaving the factory under its own power. The simplest kits are just the molded hull and top. Most kits leave the facility with the engine set, shaft installed, bulkheads and such, while others have all the glasswork done and the major mechanical components installed with no wiring, plumbing or interior. For the handyman, this is an extremely economical way to build a boat. The ultimate kit is called a "bare running boat" which is a complete running boat that leaves the interior design entirely up to you!

Other Duffy & Duffy Boat Resources:



Click here for Duffy Boats for Sale