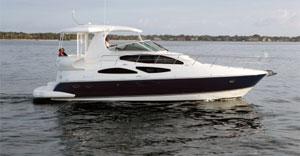 Custom Cruisers Yachts Searches
Cruisers Yachts Information
Cruisers Yachts started out building lapstrake wooden boats in a small town on the shores of Green Bay, Wisconsin. Today, they are part of KCS International, Inc., a family-which includes their sister companies Rampage Sport Fishing Yachts and Shamrock Sport Fishing Boats. Cruiser's extremely talented craftsmen are dedicated to building exceptional yachts that represent the best of contemporary naval architecture, technology and styling. Each yacht is the result of unrelenting attention to detail, a passion for the process, and the successful blending of state-of-the-art techniques with traditional, hands-on workmanship.

Since the beginning, Cruisers Yachts has always stood for innovation, not imitation. Their goal is to create the most elegant, well-thought-out and technologically advanced yachts in the marketplace. One of their greatest technological advantages is the use of full cabin fiberglass liners, which are lighter than carpet over plywood, will not deteriorate and are easy to clean. Their finished yachts also offer durable welded bow rails, walk-through windshields for safe and easy access to the foredeck, strong aluminum radar arches and full canvas enclosures that connect to the arch for easier set-up and greater stability.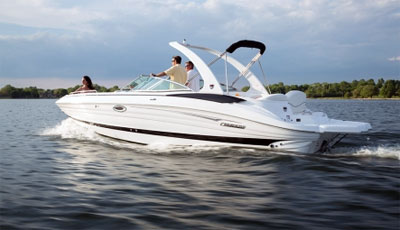 From the standard features of their yachts to all the way to special-order requests and available options, they are committed to satisfying their customers. Cruisers Yachts is also committed to maintaining an ongoing relationship with each customer and making him or her a valuable member of the Cruisers Yachts family. They pledge that if an owner ever experiences a problem with their Cruisers Yacht that is protected under warranty but cannot be handled by a dealer to your satisfaction, they will provide free factory assistance through personal advice or send a trained service representative directly to you.

Other Cruisers Yachts Resources:
Click here for Cruisers Yachts for Sale