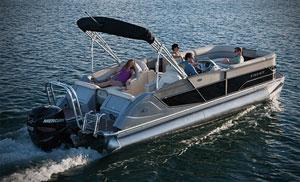 Custom Crest Pontoon Boats Searches
Crest Pontoon Boats Information
Crest Pontoon Boats are manufactured by Crest Marine LLC of Owosso, Michigan. Crest Marine sells several incarnations of pontoon boats as well as custom designed and manufactured commercial pontoon boats.
Crest pontoons, for over 55 years, have been an industry leader. They have provided tens of thousands of owners of Crest pontoon boats an incredible experience on the water. Over the course of their years Crest pontoon boats have sold in most of the 50 states with some being sold as far away as Canada, Europe and even Australia.
Every single Crest pontoon is the culmination of 55 years of evolutionary experience. That evolution is proven by the cadre of highly satisfied Crest owners who benefit from over five decades of the products evolution.
The current offerings by Crest are the most up to date since the inception of the brand. At all model levels and trim options, Crest offers a level of quality, safety, style and comfort sought by experienced buyers. If you are considering your first pontoon or a replacement pontoon take time to consider a Crest.
Crest 2570 Pontoon Boat Review
Click here for Crest Pontoon Boats for Sale