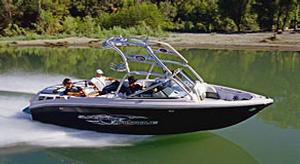 Custom Correct Craft Boats Searches
Correct Craft Boats Information
Correct Craft Boats are manufactured by Nautique. For more than eighty years Nautique has been known for building the highest quality boats available and almost more importantly for delivering unprecedented customer service. Their passion and dedication is clearly present in each and every Correct Craft that they build.

W.C. Meloon founded the company under the name Florida Variety Boat Company back in 1925. A year later they made history by becoming the first company to trailer boats by road across the nation instead of by train. In 1930 the company was renamed to Pine castle Boat and Construction Company. Finally in 1936, after hearing an advertisement for shoe heels on the radio, W.C. was inspired to once again rename the company and Correct Craft was born.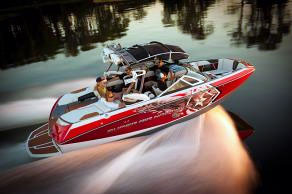 The company grew steadily through the years and in 1942 opened a second production facility to fulfill government contracts for the war effort and eventually begin production of large cruisers as well. Three years later, W.C. was asked to build 400 boats in about two weeks for the war effort. Unheard of at that time, but not impossible in the eyes of W.C., Correct Craft engineered a ground-breaking manufacturing process that not only turned out 400 boats in record time, but solidified the company's reputation as a reliable manufacturer of quality boats.

After 10 years of continued success, Correct craft began to scale back production of their less popular models. It was around this time that a man named Leo Bentz came to W.C. with the first Ski Nautique design and offered to sell it to him. W.C., who had never seen a fiberglass tree, wanted no part in building the fiberglass boats. Bentz persisted and in 1961 the company finally agreed to obtain the mold from Bentz in exchange for a free boat and required maintenance for three years. And so goes the story of Nautique and Correct Craft boats.

Buying a Correct Craft gets you more than just the best water-ski or wake-board boat in the industry, it gives you the opportunity to extend your family by joining the Nautique Owners Association. Just like most families, they get together and celebrate every year. The invitation is always open for you to join the Nautique Owners Association and enjoy the variety of fantastic benefits and annual special events.

Other Correct Craft Resources:
Click here for Correct Craft Boats for Sale