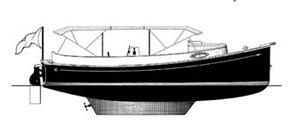 Custom Com-Pac Yachts Searches
Com-Pac Yachts Information
Com-Pac Yachts was started in 1974 with the Com-Pac 16. The idea then was to build a seaworthy yacht without compromise at a great value. Since then Com-Pac yachts has expanded their range to nine models, four cat-rigged and five sloop-rigged. The Com-Pac line covers ranges from a 14-foot day sailer to a 35-foot bluewater cruiser. Each model is built with relentless attention to detail and value - no matter what size it is.

Our line of modern cat-rigged models (dubbed "A New Breed of Catboat") offer the ultimate in trailer-sailing ease and rig set up. The shrouds remain attached and the head stay disconnects with the flip of a pre-adjusted, self-locking lever. This system is unique and adds an ease and convenience to trailer sailing that is really amazing. Your mast is up and your ready to sail in seconds.


The four sloops in their range have full masthead, eight stay rigs and fixed keels which means they can be sailed in areas and conditions that lesser sloops would avoid. Many Com-Pac sloops hold bragging rights to long-range cruises. Coastal cruising, Gulf of Mexico crossings, and long term Bahamas cruises are some that are on record. Two of the sloop models, 23 and 25, are trailerable and yet they are still classified as full-fledged cruising yachts and neither seaworthiness nor comfort have been compromised.

Com-Pac's traditionally rigged sloop models come with an exemplary list of amenities and standard equipment. You are sure to find everything you need for a weekend get away or even an extended cruise. If the equipment you desire is not standard or offered on their extensive option list, they are open to discussing your needs in order to configure your yacht to your exact requirements.

Other Com-Pac Yacht Resources:



Click here for Com-Pac Yachts for Sale