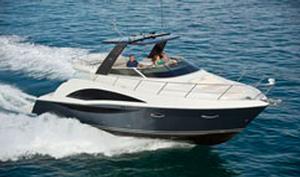 Custom Carver Boats Searches
Carver Boats Information
Carver History:
In 1954 Charles Carter and George Verhagen began building mahogany-planked, high-speed runabouts in a Milwaukee garage. What began as a hobby rapidly turned into a business and as word-of-mouth quickly spread the two novice boat builders began selling their hand crafted boats. The two entrepreneurs combined the first three letters of their last names and the Carver Boat Company and the Carver brand was born.
These entrepreneurs moved their growing business to Northeast, Wisconsin in 1954 to take advantage of the area's enthusiastic work force and excellent transportation options and services. They built mahogany runabout boats during the 1960's and eventually added cabin cruisers to their expanding line quality boats. In the 1970s, they switched their construction to fiberglass.
By the 1980's Carver had been acquired by new owners which empowered the company to expand sales beyond the Great Lakes and Midwest region and truly become a recognized frontrunner in the luxury motor yacht market. The Carver aft cabin style motor yacht was initially introduced during this period and became synonymous with the Carver brand in the 1980's and 1990's. The 1990's also saw the introduction of the well-designed and upscale Voyager long range cruisers as well as the Montego series of stern drive cruisers. By the late 1990's, all Carver Yachts were constructed without structural wood below the waterline. Fiberglass stringers and many other innovative features were introduced that made Carvers the most durable and long lasting boats in the water. The largest Carver Yacht, the 57 Voyager Pilothouse, was introduced in 2000.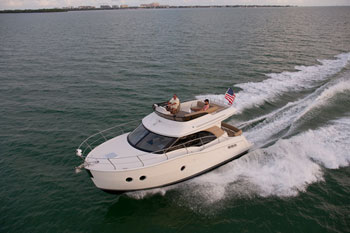 The Carver Philosophy:
Carver Boats & Carver Yachts: Where does the notion of a boat end and the concept of a true yacht start? Some boat builders would have you consider that size alone determines what is and is not a motor yacht. But Carver Yacht has a different perspective; they don't suppose that a true yacht can be built by machines and robotically. Nor, do they believe, that it can be mass-produced to gratify one and all. Creating a true yacht demands the combination of art and science which is a skillful combination of a craftsman's artistry with the finest boat building technologies available. ''Motor Yacht'' is a title that must be earned. At Carver Yachts that responsibility is taken very seriously. Every Carver Yacht blends time-tested boat building methodology with ground-breaking engineering and the most current, established resources and components. Carver is dedicated to selecting the highest-quality basic and raw materials and custom-designed components for each boat, from the all fiberglass stringer systems to double welded stainless steel rails and through bolted cleats and fittings, so that you can have total assurance in your Carver Boat. All of this is accomplished with a workforce that is one of the most highly qualified and regarded in the boating industry.
New Carver Boats: Every Carver Yacht is crafted with the confidence that comes from over fifty years of quality boat building know-how. Carver continues to elevate both structural standards and customer expectations through their cutting-edge technology along with generations of handcrafted skills that place their manufacturing in a group by itself.
Carver Boats & Yachts information of interest
Click here for Carver Boats for Sale
Carver Boats Corporate Contact Information
Carver Boat Corp.
P.O. Box 1010, 790 Markham Drive
Pulaski , WI 54162
920-822-1600
Fax: (920)822-8820