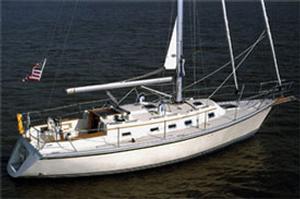 Custom Caliber Yachts Searches
Caliber Yachts Information
A Caliber Yacht is designed to be a serious off-shore cruiser with excellent all-around capabilities. Swift sailing, above-average handling, and the ability to masterfully weather the sea are the direct result of her design. Caliber's efforts at the drawing board have produced an underbody configuration that is a blending of two types of extreme hull designs for Long Distance Cruising, but not at the cost of maneuverability or speed. The modified fin keel with skeg rudder makes the Caliber extremely responsive and quick. In addition, she has fantastic directional stability, which enables her to ultimately keep a true course, even through pounding seas. All of these individual characteristics add up to excellent cruising performance.

Caliber uses what they call the Multi-Bulkhead Bonding System during construction which is a labor-intensive construction method by which floors, stringers, bulkheads, shelves, and frames are bonded with heavy fiberglass laminates. Primary sea, keel, and rig loads are more evenly spread over the entire hull which helps prevent concentrated point loading.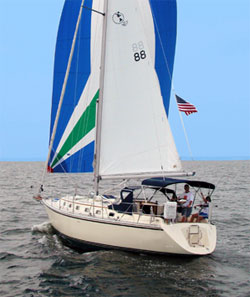 Caliber Sailboats are built with "Smart Features" that give owners more enjoyable and worry free time on the water. They feature Smart Electrical Systems developed because in years past, the average DC power draw was less than 100 amp-hours per average day of usage. These days, with the myriad of navigational electronics and appliances that make cruising safer and more pleasurable, the power draw has doubled to 200 amp-hours. Today's sailor needs a more sophisticated, updated system to handle these additional loads.

The Smart Anchoring System is another Caliber feature developed through the use of customer feedback. Caliber knows that part of serious sailing is having a serious anchoring system. Caliber Smart Anchoring System™ provides the owner with everything they need to help them stay securely in place even during the worst storm conditions.

The newest Smart System developed by Caliber Yachts is the Smart Stern Rail. The Caliber Smart Stern Rail plug and play features address the needs of a serious offshore yacht. It's extra-strong build allows it to carry the loads of a wide variety of optional equipment. Additionally, a storage bracket can be attached that can carry the heavier load of a modern four-stroke outboard. A lifting crane can also be attached to the rail to help move the heavier motors which can't be man-handled like they used to. A canti-levered helmsman bimini, a unique bimini design that allows clear access to port and starboard for handling docking lines, can also be attached. The support is also strong enough to allow solar panels to be fitted directly on top of it, completely clear of the shadow of the boom.

Resources for Caliber Yacht and Caliber Sailboat owners and future owners:
Click here for Caliber Yachts for Sale
Caliber Yachts Corporate Contact Information
Caliber Yachts
4551 107th Circle North
Clearwater , FL 33762
727-573-0627
Fax: 727-573-2413
Email Caliber Yachts for information