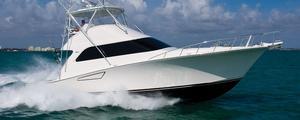 Custom Cabo Yachts Searches
Cabo Yachts Information
Cabo Yachts, right out of the gate in 1991, began establishing itself as a force to be rockoned with among builders of premium sportfishing boats. This vessel is an extremely notable feat in an industry where history is by generations, not decades. Cabo has proven themselves to be extraordinary builders by accomplishing so much in a very short period of time.

Before the first boat was ever delivered Cabo stated their goal was to "build the best Sportfishers money can buy". Some may say that's pretty simple, but that goal with that single word, "best" has been Cabo's operating principal towards which all energy is focused. The outcome of that desire to build the best has been great success.

Many found it incredible that a newcomer could be so bold. Now they sit back and admire some of the most sought after sportfishers in the world. The entire Cabo line of sportfishers offers unequaled workmanship, engineering and performance. Their boats are designed and built with that single, original goal still in mind - to be the best.

Now, for many looking for a new sportfisher the choice is no longer which boat, but rather, which Cabo. A choice with only one outcome - perfection.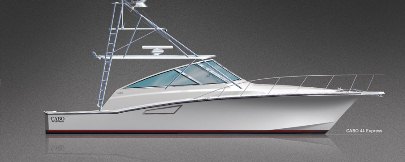 CABO will debut the new 44 EX at the 2012 Ft. Lauderdale Boat Show. The new 44 EX delivers the open feel and style of a traditional express, combined with the fishability and comfort. CABO owners and anglers around the world who prefer the express model, especially in new and emerging markets for CABO, will find up-to-date performance standards in this new offering.
Measuring at over 100 sq/ft., the layout of the oversized cockpit remains what CABO is known for. Look forward to enjoying mezzanine seating, a dedicated bait and tackle center, insole fish boxes, rod storage and an in-transom bait tank that hold true to every CABO model. Stainless steel backing plates are laminated into the cockpit, making the addition of a fighting chair effortless.
Resources for Cabo Yacht Sportfishing Boat owners and future owners:
Click here for Cabo Yachts for Sale
Cabo Yachts Corporate Contact Information
Cabo Yachts, Inc.
9780 Rancho Road
Adelanto , CA 92301
(760) 246-8917
Fax: (760) 246-8970
Email Cabo Yachts for information