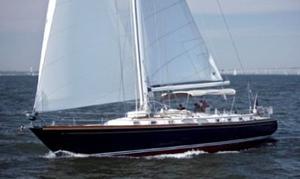 Custom Bristol Yachts Searches
Bristol Yachts Information
Bristol Yachts: In 1964 Clint Pearson purchased the Poppasquash Point boat yard and the surrounding land to establish a sailboat manufacturing plant. Pearson began the production of various yachts including the Bristol 27 designed by Carl Alberg. Over the course of just one year, 172 Bristol 27's were built by Pearson's new, growing company.

Other early Bristol lines included the Bristol 29 designed by Herreshoff, the Bristols 32 and 39 designed by Ted Hood, and the John Alden designed Bristol 34.

Early Bristol models were built to appeal to the mass market and were often cutaway full keel or keel-centerboard designs. Most of the Bristols carried more weight than most other comparable production sailboats. Racing was a possibility using the PHRF system, however most were designed for cruising and comfort.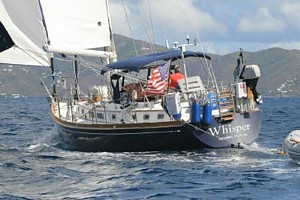 All Bristol Yachts included an interior fiberglass headliner that hid roughly finished fiberglass on the inside of the cabin. The cabinetry was fiberglassed to the hull which added significant structural integrity. Early Bristols were all crafted with solid, hand-laid fiberglass. The decks and cabin tops were cored with endgrain balsa which extended to the cockpit seat tops and the cockpit sole. The rudder posts and propeller shafts were made of solid bronze. Bronze tapered-plug seacocks were employed on all underwater thru-hulls. A distinguishing feature is that virtually all Bristol models included at least two molded Dorade boxes on the cabin top that allowed ventilation in rough seas or rainy weather.

Later model Bristol Sailboats included the 31.1, 35.5, 4.1.1, 45.5, 47.7 and some larger custom built boats. Between 1965 and 1997, a total of 4,400 Bristol yachts were produced. Clint Pearson handed over the reigns of Bristol Yachts in April 1998 to Bristol Marine.

While the former Bristol Yachts company ceased production in 1997, Bristol Marine has introduced plans for a new Bristol 48.8 The Bristol 48.8 is a yacht whose hallmark is steeped in Bristol's 30 year tradition of quality craftsmanship and value.
Corporate History:
The Bristol Yacht Company was established by Clinton "Clint" Pearson. Clint and his cousin Everett Pearson began construction of fiberglass dinghies in 1955 in their garage in Seekonk, MA on County Street. Within a years' time the newly established Pearson Yachts employed hundreds of people. Fast corporate expansion resulted in cash flow difficulties. The cousins raised capital by selling an equity position in Pearson to Grumman Allied Industries in 1961. Clint left in 1964 and acquired a distressed sailboat builder, Sailstar, in West Warwick, RI. He moved into the abandoned Herreshoff boatyard. Carl Alberg designed the company's first boat, a Bristol 27. Clint decided to change the company's name to Bristol Yacht Company in 1966, thus phasing the Sailstar brand name out of existence. The boat yard was eventually located on Popasquash Road, in Bristol, RI. The facilities included a giant outbuilding on land owned by Clinton and where his home was located as well. Across the road from the outbuilding was a small marina and travel lift. Owing to bankruptcy the company was closed in 1997.

Resources for Bristol Yacht and Bristol Sailboat owners and future owners
Click here for Bristol Yachts for Sale
Bristol Yachts Corporate Contact Information
Bristol Yachts
Bristol , RI