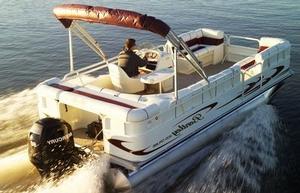 Custom Bentley Pontoons Searches
Bentley Pontoons Information
Bentley Pontoons pride themselves in producing the finest boats around. They have changed the boat industry with their line of pontoons and have become well known for value that others can only try to compete with.

Bentley Pontoons offers 4 models in their line of fishing pontoons. All of them are very well equipped with standards including a 9' bimini top and a waterproof stereo with a CD player. The 3/4" marine plywood decking, 25" diameter tubes and aluminum transom all come with a lifetime warranty. And color choices include blue, black, green, burgundy and tan. Additional options can be added to the 200, 240 and 244 models that include bass seats, rod holders and live-wells.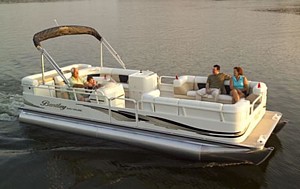 Bentley Pontoon's Cruise series offers the 200 and the 240 in their model line-up. Each come standard with the same equipment offered on the fishing pontoons. The 200 can be purchased in yellow in addition to the standard colors and an optional table with cupholders can be added. The 240 can be ordered with an optional rear-entry - an option available for every 24' pontoon in their line up.

They also offer tri-toons which come with the regular standard equipment and can be optioned to include aluminum underskin and a 175HP max rating. The tri-toons are available in cruise, fish and 4-point models.

Whether you want to cruise the water, enjoy fishing, tubing, or skiing, Bentley makes a boat that will meet all of your needs.

Resources for Bentley Poonton owners and future owners
Click here for Bentley Pontoons for Sale