Custom Baha Cruisers Searches
Baha Cruisers Information
Baha Cruisers founder Felix Nall started his career in the boating industry in 1967. He spent about 10 years working for a couple of different boat building companies. Seven of those years were spent working as the head of operations for each company. In 1977, he decided to venture out and start his own boat building enterprise. He acquired the rights to a 31 foot sportfishing boat design and began production.

Today, boasting over 25 years of continuous business under the same family ownership and operation, Baha Cruisers builds a dozen or so current models in nearly every category of powerboat. They offer enclosed hardtop fishing boats, walkarounds, deck boats and "King Cats" power catamarans. They have something to offer almost everyone who is into powerboating.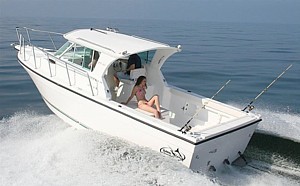 BAHA Cruisers Boats provides custom and semi-custom options and configurations on their boats that other boat builders cannot offer. All of their boats have ultra-tough hull construction for serious rough water boat handling and capability.

They use Greenwood XL boat panel with a lifetime warranty which means you never have to worry about rot or decay of your boat. BAHA Cruiser Boats offers a wide range of power options and configurations, custom upholstery, aluminum tops, sunbrella canvas, raymarine electronics, custom welded aluminum fuel tanks, stainless steel bow rails, heat-shrunk electrical connections, tempered safety glass windshields and all hardware is stainless steel.

Baha attributes the growth and longevity of the company to the basic principle it was founded upon: Build a quality boat, at a good price and the result will be a product that offers the best total value available. Their management team believes that adhering to that principle is what has sustained the company in the past, and is what will allow the company to grow in the future - providing boating enthusiasts with quality boats they won't merely use, but enjoy for many, many, years.
Resources for Baha Cruisers owners and future owners
Click here for Baha Cruisers for Sale
Baha Cruisers Corporate Contact Information
Baha Cruisers
Highway 51, Box 478
Maya , FL 32066
(386)294-2431
Fax: (386)294-2065