Custom Aquasport Boats Searches
Aquasport Boats Information
Aquasport Boats have a rich history that dates back to the 1950's. Partners Fred Coburn and Lennox Sargent formed a company called C&S boats and through that company they designed and built wooden center console boats that they hoped would appeal to the ski boat market niche. The boats were based on a center console known as the Scop Cruiser which was designed by Fred Scopinich. Scopinich designed and built the first Aquasport prototype which was an all wood center console with a modified vee hull, powered by an outboard engine and built on a per-order basis.

Aquasport unveiled it's first fiberglass boat in the mid 60's to great success. It was around that time that Coburn purchased Sargent's interest in the company and became sole owner. In 1967 the name was officially changed from C&S Boats to Aquasport. In 1968 they introduced a slightly smaller version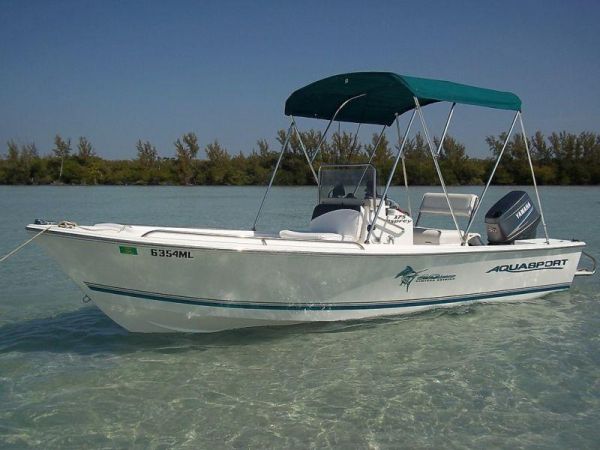 of the popular 22-2 and added it to the range of offerings.

Designer Walt Walters, a well known offshore racer, joined forces with Aquasport to enhance the designs of their boats. By 1976, every Aquasport offered was a Walt Walters designed, modified vee center console. In 1974 two models, the 22 and 24 footers, were introduced with inboard engines. Also in the mid 70's they began offerings models with enclosed berths and seperate heads which were referred to as "Family Fisherman" models.

Aquasport was eventually taken over by Genmar in 1988 and the line was discontinued in light of the less costly Wellcraft models. There are still many Aquasports on the water today which is a testament to their ruggedness and durability.
Resources for Aquasport Boat owners and future owners
Click here for Aquasport Boats for Sale
Aquasport Boats Corporate Contact Information
Aquasport Boats
2545 Jones Creek Road
White Bluff , TN 37187
615-797-319
Fax: 15-797-4889
Email Aquasport Boats for information