Vero Beach Fall Boat Show
Show Location:
Riverside Park, Vero Beach, Florida
Show Dates:
Saturday, November 21, 2020 through
Sunday, November 22, 2020
Show Times:
Saturday: 10:00 am - 5:00 pm
Sunday: 10:00 am - 4:00 pm
Show dates and hours are subject to change.
Admissions:
Parking and Admission are absolutely FREE!!
Vero Beach Area MarineSource Members:
The Vero Beach Fall Boat Show is back again for another exciting year. The show is located at Riverside Park southeast of the Barber Bridge and just west of the Riverside Theater off of Route 60 in Vero Beach. Boat dealers and suppliers from the local area will be displaying their product lines including offshore fishing machines, cruisers, deck boats, pontoon boats, shallow water skiffs, kayaks and personal watercraft, marine accessories and services plus staff will be available to help you and answer all of your questions. Finance representatives will be onsite. This boat show has it all so don't miss the boat!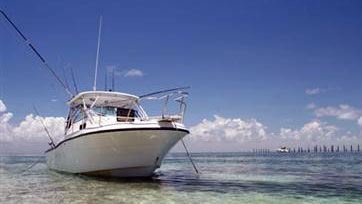 Highlights: The Annual Vero Beach Fall Boat Show offered the opportunity to visit with local area boat dealers and suppliers. There was an extensive line of products to make your boating season a success. There were offerings from standup paddleboards and kayaks, to deck boats and pontoon boats along with, shallow water skiffs and personal watercraft and offshore fishing machines and cruisers. The marine finance experts on site made dreams come true.
Information about this was obtained from various sources and is thought to be correct. We strongly recommend that you contact the show producer to confirm this information. See the bottom of this page for informaiton on how to contact the show producers.