Annapolis US Powerboat Show
Show Location:
City Dock and Harbor, Annapolis, Maryland
Show Dates:
Thursday, October 05, 2023 through
Sunday, October 08, 2023
Show Times:
Thursday: 10:00 am - 6:30 pm
Friday: 10:00 am - 6:30 pm
Saturday: 10:00 am - 6:30 pm
Sunday: 10:00 am - 5:00 pm
Show dates and hours are subject to change.
Admissions:
General Admission – Adult ~ $25 ($30 at the gate)
General Admission – Children ages 7 to 15 ~ $10
Children under 6 are free
Prices are subject to change.
MarineSource Members In Attendance:
(click on broker name to view their available listings)
Annapolis Area MarineSource Members:
United States Powerboat Show, Annapolis, Maryland
The United States Powerboat Show held in Annapolis, Maryland and formerly known as the "Annapolis Powerboat Show", is the nation's oldest and largest in-water powerboat exposition. The show features luxurious motor yachts, offshore fishing boats, trawlers and high performance boats in addition to the ubiquitous family cruisers, center console fishing boats along with inflatables and a multihull boat selection. The show also features a large selection of marine equipment, boating gear, high-tech marine electronics, boat accessories, marine services, navigation equipment, insurance and financing plus special events including boat demonstrations and marine educational seminars. City Dock and Harbor in Annapolis, Maryland is where the show activities will take place.
Boat shows are very important for manufacturers as they utilize these events as an opportunity to measure the acceptance of their newly introduced models. The boating industry is deeply influenced by such shows. The United States Powerboat Show is one of the most awaited boating events in the world. This powerboat show is one of the more reliable venues for exhibiting larger boats.
2014 Highlights:
CRUISING THE ICW
DOCK 'N DINE
GET YOUR CAPTAIN'S LICENSE
iNAVIGATION
MARINE DIESEL BASICS
RADAR AND AIS
Seminars will be held in the Arnold Room at the Marriott Annapolis Waterfront Hotel.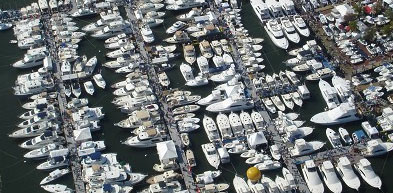 2013 Show Highlights: Some of the select show activities for 2013 will include the Take the Wheel Interactive Workshop along with seminars by the Chesapeake Bay Magazine. The latest in navigation equipment and information will be available. There will also be trailerable boats and inflatables on site.

The Annapolis, Maryland mega shows have always been in the spotlight owing to the freshness of ideas in products introduced each year. The organizers have taken care to explore newer attractions to add versatility to their events. These shows serve as a platform to develop a bridge between the buyers and sellers. The exhibition and trials are helpful in attracting potential buyers not only for boats but also for vital measuring of the success of parts and accessories to made available buyers. Additionally, boaters have the opportunity to attend a range of boating related seminars and programs.
Information about this was obtained from various sources and is thought to be correct. We strongly recommend that you contact the show producer to confirm this information. See the bottom of this page for informaiton on how to contact the show producers.