Tampa Bay Fall Boat Show
Show Location:
Florida State Fairgrounds, Tampa, Florida
Show Dates:
Friday, October 02, 2020 through
Sunday, October 04, 2020
Show Times:
Friday: 10:00 am - 6:00 pm
Saturday: 10:00 am - 6:00 pm
Sunday: 10:00 am - 5:00 pm
Show dates and hours are subject to change.
Admissions:
Admission is Free!
$8.00 for Parking
Prices are subject to change.
Tampa Area MarineSource Members:
The Tampa Bay Fall Boat Show is the Gulf Coasts boating sales event of the Fall Season and has something for everyone. This event showcases area boat dealers and manufacturers who are offering end of year deals on the latest in boats and boating and fishing supplies along with those much needed accessories also. This three-day sales event allows you to take advantage of the ability to see and compare many boat builders' models at one location. The main floor will be filled with exhibits of new boats, trailers, docking and safety equipment.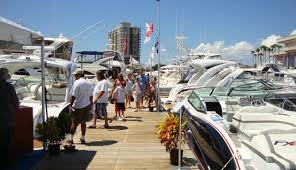 Take advantage of the enormous selection of boats on display from large to small with too many manufacturers and models to list! There will be millions of dollars in boats and boating inventory on display in one location for your convenience. Additionally, there will also be area lenders on hand offering attractive show financing rates and terms. Make plans to come on down and put your John Hancock on the line and you may be on the water before the weekend is over.
The event is open to the public and the admission is FREE.
Information about this was obtained from various sources and is thought to be correct. We strongly recommend that you contact the show producer to confirm this information. See the bottom of this page for informaiton on how to contact the show producers.