Sydney Boat Show
Show Location:
Sydney Convention and Exhibition Centre & Cockle Bay Marina Darling Harbour, Sydney, Australia
Show Dates:
Thursday, July 28, 2022 through
Monday, August 01, 2022
Show Times:
Halls are open
10am – 7pm
Marina
10am – 7pm
Show dates and hours are subject to change.
Admissions:
All prices shown are in Australian dollars (AUD).
Adults: $22.00
Pensioner: $16.00 - Card required
Seniors: $20.00 - Card required
Children (6-17): $13.00
Children (5 and under): Free
Family: $49.00 (2 adults and 3 children)
2-Day Pass: $30.00
3-Day Pass: $40.00
Prices are subject to change.
Looking for a great boating bargain? Head down to the Sydney International Boat Show for the best bargains of the year.
The Sydney International Boat Show, established in 1967, has been, and is, an integral part of boating fabric of Australia. The show has consistently been a meticulously run exhibition of the finest built boats, yachts, marine and boating related products from around the world. In addition to the marine related products, the show has been at the forefront of education for boaters.
Highlights for 2014: The Sydney International Boat Show will celebrate its 26th year at Darling Harbour which is looking as though it will be one of the best shows ever!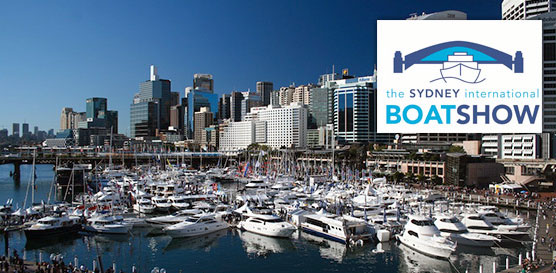 The show will promote education and entertainment as the main theme of this show followed by a line-up of boating related products for visitors to peruse in addition to the outstanding yachts, boats, marine products and boating gear. Then there are the various boating related events that the show traditionally provides.
The 2014 Sydney International Boat Show is owned, operated and organised by the Boating Industry Association of NSW and the hours of operation will be from 10am to 8pm daily for the hall exhibitioins and between 10am to 6pm for the marina exhibits.

Information about this was obtained from various sources and is thought to be correct. We strongly recommend that you contact the show producer to confirm this information. See the bottom of this page for informaiton on how to contact the show producers.