Stuart Boat Show
Show Location:
54-290 NW Dixie HWY, North of the Roosevelt Bridge, Stuart, Florida
Show Dates:
Friday, January 15, 2021 through
Sunday, January 17, 2021
Show Times:
Friday: 10:00 am - 6:00 pm
Saturday: 10:00 am - 6:00 pm
Sunday: 10:00 am - 5:00 pm
Show dates and hours are subject to change.
Admissions:
Adults: $15.00
Senior Citizens and Veterans: $13.00
Children (12 and under): $8.00 (infants are free)
*SORRY, NO PETS ALLOWED*
Prices are subject to change.
MarineSource Members In Attendance:
(click on broker name to view their available listings)
Stuart Area MarineSource Members:
The Stuart Boat Show is the largest on the Treasure Coast and features a huge selection of hundreds of boats of all shapes and sizes including power boats, cruisers and yachts just to name a few on display in-water and on land. The show will also have marine electronics, engines every marine accessory imaginable from manufacturers worldwide. The show spans over four locations including HMY's Waterway Marina, Apex Marine, Stuart Harbor and Half Mile of State Road 707 Old Dixie Highway which connects all locations by road. Look for the signs for free parking and free shuttle bus service.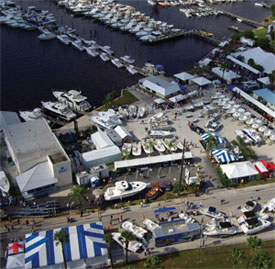 For 2014 the 40th Stuart Boat Show will be featuring over $100 Million in boating and marine products. Over 500 boats will be displayed both in the water and on land.
For More Information:
Visit the
Stuart Boat Show Website
E-mail
Call (954) 522-5515
Information about this was obtained from various sources and is thought to be correct. We strongly recommend that you contact the show producer to confirm this information. See the bottom of this page for informaiton on how to contact the show producers.