Sidney BC Boat Show
Show Location:
Port Sidney Marina, Sidney, British Columbia
Show Dates:
Thursday, September 24, 2020 through
Sunday, September 27, 2020
Show Times:
Thursday & Friday: 11:00 am - 7:00 pm
Saturday: 10:00 am - 7:00 pm
Sunday: 10:00 am - 5:00 pm
Show dates and hours are subject to change.
Admissions:
Adults: $10.00 - At the Gate.
Students & Seniors: $8.00 (Students will need a valid student ID for reduced rate)
Children (15 and under): FREE when accompanied by an adult.
Prices are subject to change.
The Sidney BC Boat Show presents hundreds of new boats and used brokerage boats and yachts including extravagant power and sailboats along with new yachts and new sailboats from builders such as Catalina Sailboats and Bavaria Yachts. Additionally, you will find high end Cruisers and both open and enclosed fly bridge watercraft. Offshore sport fisherman and aluminum fishing boats for the lake angler will be on display. There will also be many exhibitors offering boating accessories, marine products, dinghies, marine electronics, VHF radios, and scuba diving gear. The Boat Show will be at Port Sidney Marina in beautiful Sidney, British Columbia.
Through the years, The Sidney BC Boat Show at Port Sidney Marina has grown the reputation of one of the most anticipated and popular of in-water boat shows. This boat show, which has been organized on one of the most beautiful harbors of the world, has materialized to be a major tourist attraction for people from across all of the geographic regions.
Why Sidney Boat Show?
The Sidney BC Boat Show lures a large audience that is present to become a part of this boater's paradise to satisfy their expectation of experiencing some of the most paramount boats and yachts from leading manufacturers and premium brands across the world. Needless to say, this boat show exhibits a wide range of boats and yachts of nearly all sizes and brands, to cater to all the segments of boaters. Whether your aim is to shop for professional purposes or personal usage, this boat show has just the right things in store for you.
What does the Show Offer?
If you are searching for the latest products and accessories in the water sport and marine activities industry, this show can help you find it all at one place. You can find an array of sailing equipments, marine electronics, diving equipments, water sport clothing, etc. as per your requirements and needs.
The Special Features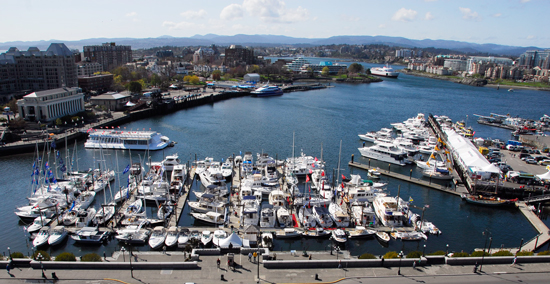 The show highlights new technologies and latest developments in the field of marine industry to provide you with information on the upcoming trends and futuristic designs of water equipment. You can expect to see and explore exciting new models of boats and yachts, offered only by premium manufacturers.
For those of you who are new to the marine sports and boating, there will be a number of seminars and workshops on marine trainings, and lessons pertinent to the latest technologies. For those of you who own a boat or yacht, the repair and maintenance workshops can be helpful to make your boating and sailing experience better.
Be there to have a fun-filled and enjoyable weekend with great food and music adding to the boating atmosphere.
Information about this was obtained from various sources and is thought to be correct. We strongly recommend that you contact the show producer to confirm this information. See the bottom of this page for informaiton on how to contact the show producers.