Seattle Boat Show
Show Location:
CenturyLink Field & South Lake Union, Seattle, Washington
Show Dates:
Friday, February 04, 2022 through
Saturday, February 12, 2022
Show Times:
CenturyLink Field
Monday - Thursday: 11:00 am - 8:00 pm
Fridays: 11:00 am - 9:00 pm
Saturdays: 10:00 am - 8:00 pm
Sunday - 10:00 am - 6:00 pm
South Lake Union
WEEKDAYS: 11:00 am - 5:00 pm
WEEKENDS: 10:00 am - 5:00 pm
Show dates, hours and locationare subject to change.
Admissions:
Adults: $17
Children (17 and under): Free
9-Day BIG PASS: $30.00
Prices are subject to change.
To find the best local boating lifestyle locations visit our
Seattle Boating Activities page.
The Seattle Boat Show, Indoors and Afloat, is the largest boat show on the West Coast and features a huge selection of boats. There are at least one thousand or more afloat at South Lake Union plus seminars and the latest boating products and marine accessories at the CenturyLink Field in Seattle, Washington. A shuttle runs every day between CenturyLink Field and South Lake Union every 30 minutes for free.
Popular attractions for hundreds of power boaters, sailors and fisherman are the more than 200 boating and fishing seminars that are available. Below you will find links to a comprehensive list of free boating and fishing seminars. Please be advised that the seminar schedule is s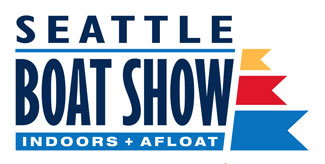 ubject to change.
Information about this was obtained from various sources and is thought to be correct. We strongly recommend that you contact the show producer to confirm this information. See the bottom of this page for informaiton on how to contact the show producers.