San Diego Boat Show **POSTPONED**
Show Location:
Sheraton Hotel & Marina/Spanish Landing Park, Harbor Island, San Diego, California
Show Dates:
Thursday, June 11, 2020 through
Sunday, June 14, 2020
Show Times:
Thursday: 12:00 am - 7:00 pm
Friday: 12:00 am - 7:00 pm
Saturday: 10:00 am - 7:00 pm
Sunday: 10:00 am - 5:00 pm
Show dates and hours are subject to change.
Admissions:
Adults: $15.00
Children (12 and under): FREE
$5 discount for Military (available at ticket booth only with ID

Prices are subject to change.
San Diego Area MarineSource Members:
For great local boating options and opportunities visit our
San Diego Pick Boating City page.
The San Diego Boat Show is southern California's foremost summer boating event. There is no better time than the show to get your watercraft ready for the water and a season of fun!
Visit the show and turn your boating dreams into a reality by examining over 150 boats for sale along with the latest in nautical gear, electronics, fishing supplies and accessories. If you're thinking a little larger we have an extensive selection of yachts 80 foot and above.
The Show has a history of being the best boat show in the area and is presented by the Southern California Marine Association (SCMA). The show is fashioned by an organization of marine industry members with over 55 years of knowledge and commitment. Those attending are guaranteed the highest quality along with a very diverse assortment of boats, yachts and marine products offered by the boating industry.
Beyond the shadow of a doubt, there is nothing more beautiful than balmy summer weather and recreational boating. That is exactly what the San Diego Yacht and Boat Show at Sheraton Harbor Island offers to its visitors, and in very generous portions. This is quite an extravagant event with an on-the-water environment and an abundance of boats, yachts and boating accessories. There are in excess of one hundred lavish motor yachts, sailboats and sport fishing boats are in the water for you to go aboard and peruse. There is also a generous assortment of reasonably priced sport type boats, fishing boats, boats for skiers and pontoon boats. Additionally, you will have the opportunity to shop for marine accessories and services from the attending vendors. If your interests include current and state of the art marine electronics, this is the place to shop. You will also find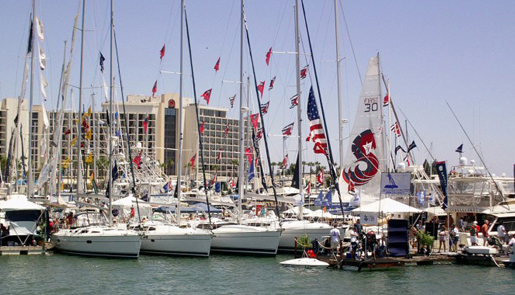 outstanding financing opportunities from banks and lenders offering exceptional term and great interest rates right on the premises.
If your schedules permits, take advantage of the free daily seminars that are scheduled about various topics ranging from cruising and navigation to powerboats sailboats, engine repairs, maintenance and seminars on the best financing options.
After Thought: Once you have had an opportunity to take advantage of the great deals at the boat show, hop in your car and take short a ride up the coast to La Jolla and enjoy one of the fine downtown restaurants to hopefully celebrate the purchase of your new boat and then walk your meal off by perusing the great shops that line the streets to furnish you new boat in style!
Information about this was obtained from various sources and is thought to be correct. We strongly recommend that you contact the show producer to confirm this information. See the bottom of this page for informaiton on how to contact the show producers.