For great local boating options and opportunities visit our
San Diego a Pick Boating City page.

The San Diego Sunroad Boat Show will feature new and used boats and yachts in-water and out, represented by yacht brokers and boat dealers. Additionally there will be representatives for the latest in boating products and marine services. The show will be held at the Sunroad Resort Marina in San Diego and parking is free with shuttle transports.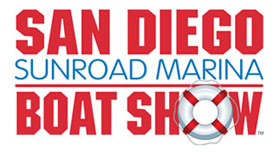 In addition to the extensive display of boats and yachts, ranging in massive sizes from 80 feet and up, there will also be extensive representation by marine vendors and electronics specialists displaying the latest nautical products and services. There will be live music, as well as food and beverages for those attending. Make plans to enjoy a day on San Diego Bay.
Information about the San Diego Sunroad Boat Show was obtained from various sources and is thought to be correct. We strongly recommend that you contact the show producer to confirm this information. See the bottom of this page for informaiton on how to contact the show producers.