New York (NYC) Boat Show
Show Location:
Javits Convention Center, New York, New York
Show Dates:
Wednesday, January 27, 2021 through
Sunday, January 31, 2021
Show Times:
Wednesday: 12:00 pm to 9:00 pm
Thursday: 12:00 pm to 9:00 pm
Friday: 12:00 pm to 9:00 pm
Saturday: 10:00 am to 9:00 pm
Sunday: 10:00 am to 6:00 pm
Show dates and hours are subject to change.
Admissions:
Adult: $16.00
Children (12 and younger): FREE with a paid adult admission.
Prices are subject to change.
MarineSource Members In Attendance:
(click on broker name to view their available listings)
New York Area MarineSource Members:
The Annual New York Boat Show is the place to see the latest and greatest in boating and the show features a huge selection of every type of boat imaginable including yachts, cruisers, fishing and ski boats, runabouts, sportfishing yachts, sailboats and so much more. Vendors in attendance will be offering boating accessories, marine electronics and along with all types of products and services of interest to boaters. You will also fine boat and yacht financing and marine insurance options. The show also features seminars, clinics and other special events of interest. This spectacular boating event will be held at the:
Jacob K. Javits Convention Center
655 West 34th Street, New York, NY 10001.
Main Entrance: Eleventh Avenue at 35th Street.
Telephone: 212- 216-2000
The New York Boat Show, a tradition dating back to 1905, continues on as an annual family-oriented exhibition of the finest offerings of boat manufacturers and marine related businesses from New York and around the world. Owing to its excellent reputation among boating consumers the show has become a major market place for the marine industry.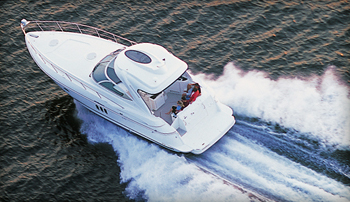 Some highlights of previous New York Boat Show's:
~ Visiting the Be a Diver Pool and Scuba in a heated pool. This feature was available to anyone age 10 and older. Bring your swimsuit and have a photo of yourself taken underwater as a memento.
~Seeing the new 50' Miss GEICO Racing Boat presented by the six-time World Champion Miss GEICO Racing Team.
~ Take part in the Boater's Education Sessions presented by Annapolis School of Seamanship. Additional details can be found on the seminar page. They are also offering pre-show Premier Workshops. For more information click here to view the seminar schedule and click here to register for the workshops.
~ Visiting the ASOS Nautis Boating Simulator to test your boating skills. The experience will allowed you to be at the helm of a virtual boat on the water without the necessity of leaving dry land.
Information about this was obtained from various sources and is thought to be correct. We strongly recommend that you contact the show producer to confirm this information. See the bottom of this page for informaiton on how to contact the show producers.